If the history of Replica Patek Philippe is likened to the bright Milky Way, then the complication timepieces are densely covered with stars. The brand invented the annual calendar mechanism, but before that, one of the most complex functions in watchmaking, the perpetual calendar, was added to the catalogue. Ref.3974 is the first perpetual calendar watch powered by an automatic movement with a minute repeater function, and thus occupies a special place in history.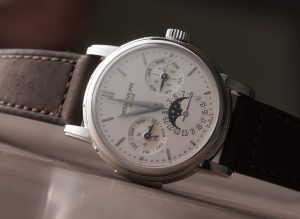 Watching carefully, you can discover the exclusive characteristics of Replica Patek Philippe timepieces. This watch is 36 mm in diameter and looks petite, but when worn on the wrist, it fits well and is integrated. The dial is neat and clean, clear and easy to read, using the classic 3/6/9 sub-dial layout, with the moon phase display and date indicator at the 6 o'clock position. The balanced and symmetrical layout is pleasing to the eye, and the stepped case gives it a timeless appeal. Sturdy lugs on the right side of the case and convenient sliders on the left side of the case remind discerning connoisseurs that this is not just a perpetual calendar watch, but a minute repeater.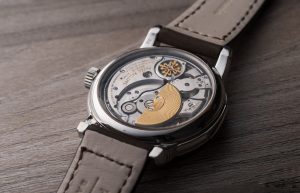 Replica Even in the Patek Philippe world, the Ref.3974 is a complicated timepiece. The watch was originally introduced in 1989 to celebrate the brand's 150th anniversary. Although the production period continued until 2000, the production was very small. Ref.3974 is available in rose gold and platinum, the latter of which is one of only 8 known. This watch is powered by the Caliber 27RQ movement, which is assembled from as many as 467 parts, but is only 6.80 mm thick, showing Patek Philippe's sophistication. This is an outstanding achievement, and the case has been specially developed to give the minute repeater the best possible tone. In addition, Ref.3974 is equipped with a beautifully retouched micro-rotor, which is not only the first perpetual calendar minute repeater watch with a self-winding movement, but also the most complicated watch in the world at the time of its release.