Replica Hublot is the official timekeeper of the Bol d'Or Mirabaud for the eighth consecutive season, confirming the brand's close connection to the event.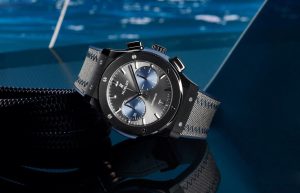 The Bol d'Or Mirabaud is the largest lagoon regatta in the world, with a course of 125 kilometers, from Geneva to Le Bouveret. Every year, around 500 sailboats compete, challenging changing wind directions and complex hydrology. Replica Hublot's partnership with this event is a natural fit, as the brand proudly showcases its deep Geneva roots and its love of sailing.
The sailing yachts sailed through the blue waters of Lake Geneva, their hulls gleaming in the sunlight. Inspired by this, Replica Hublot launched the new classic fusion series chronograph Bol d'Or Mirabaud special edition. The new watch is decorated in glossy grey, matt black and navy blue for a sophisticated look.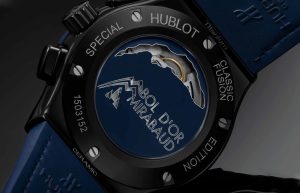 Featuring a 45mm black brushed ceramic case and topstitched overlock fabric strap, the Classic Fusion Chronograph Bol d'Or Mirabaud Special Edition is sporty and elegant, perfect for sailing and urban living.