The Replica Rolex Submariner is one of those watches that truly qualifies as an "icon" and remains a model for diving watches and a special timepiece worth owning. In the rich history of the Submariner, there are quite a few rare models, usually of limited or very low production, Ref.5513 "Meters First" is one of them.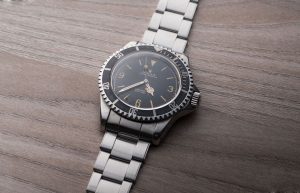 Ref.5513 is one of many collectors' coveted models, released in 1962. At that time the Submariner was a pure tool watch, not so closely associated with a luxury lifestyle as it is today. The Ref.5513 has a simple and practical design, with a case diameter of 39 mm and a guard to protect the crown from impact. The dials of most Ref.5513 watches feature regular hour markers, but this particular model features the classic Explorer-type configuration with Arabic numerals for the 3, 6 and 9 o'clock markers.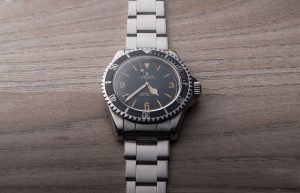 The small dot below the 6 o'clock position makes this watch even more unique. In the 1960s, regulations around the use of radium were tightened, and the small dots indicated that the watch was less radioactive. These dials have been nicknamed "exclamation mark" dials, aptly. The name "Meters First" is derived from the waterproof performance that "Meters" (meters) units are marked on the front and "Feet" (feet) units are marked on the back.
This is an early Ref.5513 watch, often used as a tool watch, and it is rare that it is in such excellent condition. This watch even comes with an original Oyster bracelet, further adding to its appeal. Currently, such watches are highly collectible and have completely transitioned from tool watches to undeniable luxury.